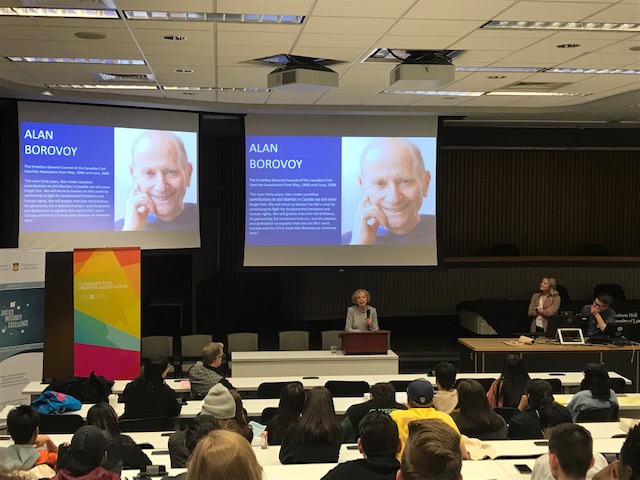 For nearly 30 years, CCLET (the education brand of CCLA) has been teaching learners of all ages about their rights and freedoms through its free education programs, resources, and events. Among the most popular of CCLA's educational offerings in Ontario is The Annual Borovoy High School Conference, named after Alan Borovoy, O.C., Executive Director CCLA 1968-2009.
The Borovoy Conference participants critically examine important rights issues from multiple perspectives as they engage directly with legal and Charter experts, community leaders, and activists, who are working to make positive social change and challenging systemic barriers in their communities and across the country.
This year, thanks to generous funding from TJX Canada, CCLA is taking the Borovoy Conference on the road to six provinces across the country.
The CCLA – TJX "Rights Roadshow" will kick off at the Canadian Museum for Human Rights in Winnipeg, Manitoba on November 4, 2021, featuring a keynote address from CCLA's current ED, Michael Bryant and three-time National Chief of the Assembly of First Nations, Phil Fontaine.
Later in the month, CCLA will be delivering The Borovoy Conference programming to students and teachers across New Brunswick. Four more roadshows are in planning for 2022, including British Colombia, Alberta, Quebec, and Nova Scotia.
CCLA is excited to expand its reach of The Borovoy Conference, offering learners and teachers comprehensive education on the rights and freedoms afforded to all people living in Canada. We thank TJX for their partnership in this important initiative.
About the Canadian Civil Liberties Association
The CCLA is an independent, non-profit organization with supporters from across the country. Founded in 1964, the CCLA is a national human rights organization committed to defending the rights, dignity, safety, and freedoms of all people in Canada.
For the Media
For Live Updates